Transform Your Affiliate Marketing Journey with Ultimate Affiliate Pro
Unlock Affiliate Marketing Mastery with Ultimate Affiliate Pro, the premier affiliate plugin for WordPress: Increase Your Earnings, Optimize Campaigns, and Maximize Success!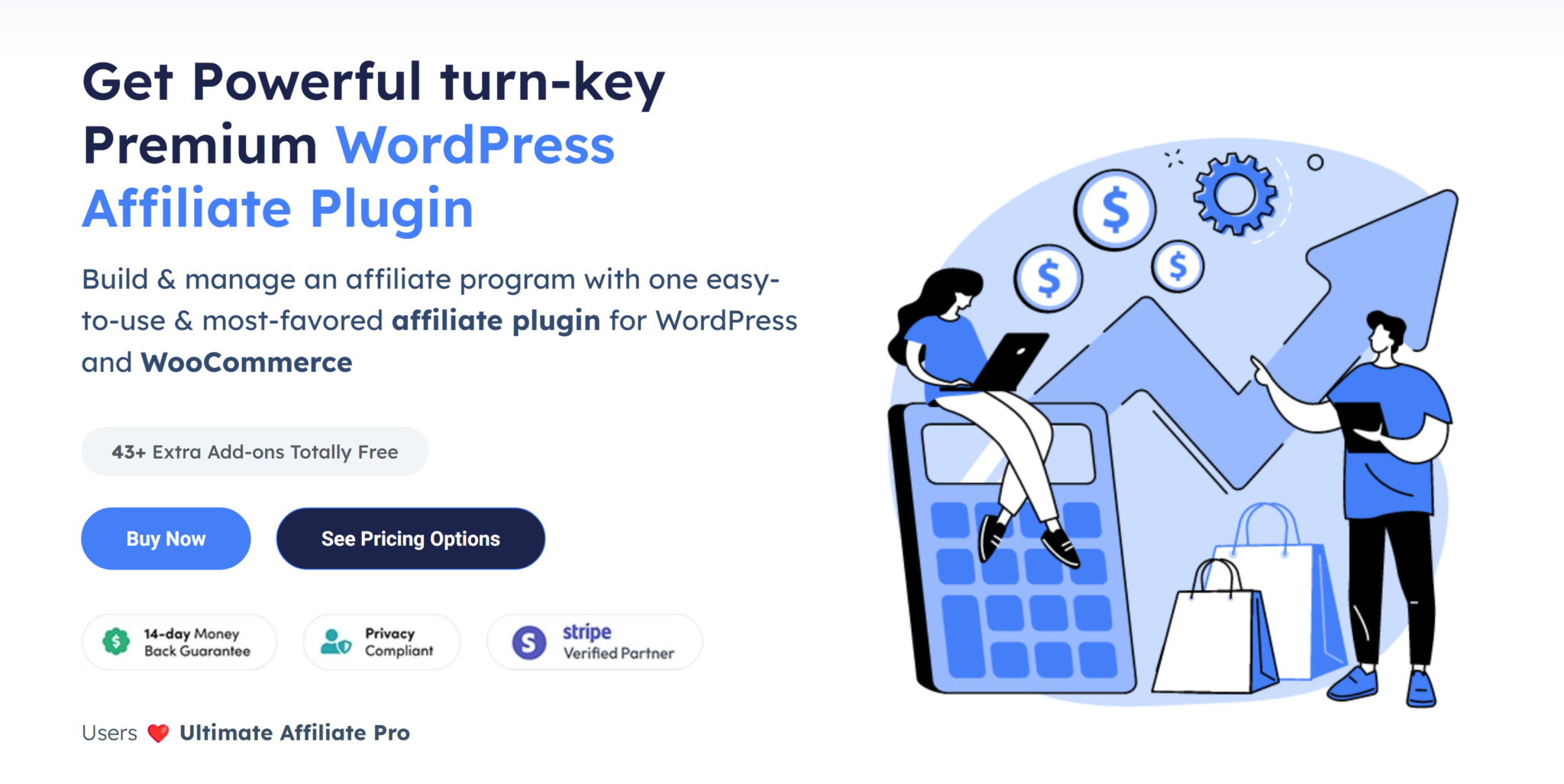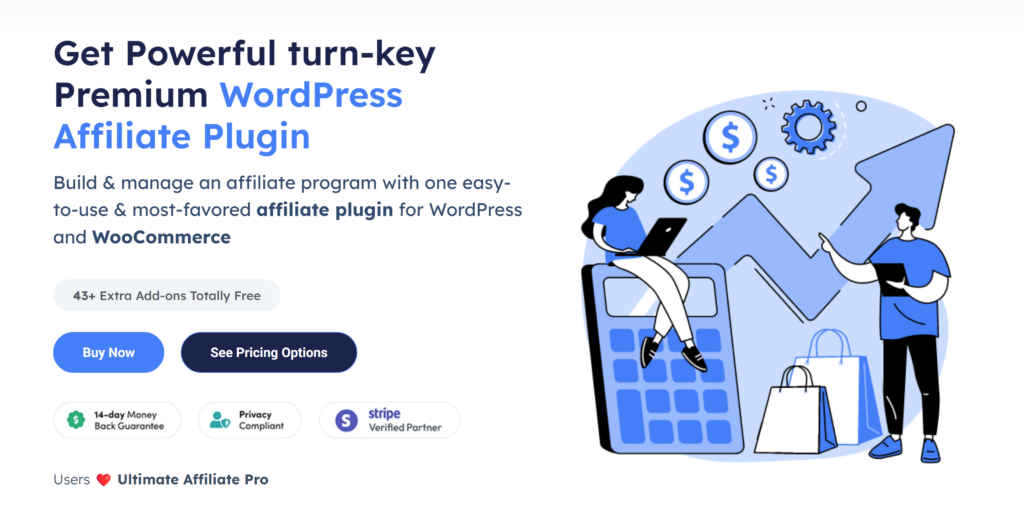 What is Ultimate Affiliate Pro?
Ultimate Affiliate Pro is the definitive choice for anyone seeking excellence in WordPress affiliate management. This exceptional plugin is designed to transform your online business and affiliate marketing endeavors. With incomparable features like real-time tracking, versatile commission structures, and fully integration with popular eCommerce platforms, it enables customers to easily develop and manage profitable affiliate programs.
What sets Ultimate Affiliate Pro apart is its user-friendliness. Even beginners can navigate the intuitive interface with ease. Plus, the dedicated support team is always ready to assist at every step of building and maintaining your affiliate program.
This plugin doesn't just provide the basics; it offers a comprehensive suite of tools to take your affiliate marketing to new heights. You can customize commission rates, manage affiliates with a few clicks, and access in-depth reports for better decision-making. Moreover, its integration with WooCommerce and other essential plugins ensures that your affiliate program easily fits into your broader online strategy.
Ultimate Affiliate Pro isn't just a plugin; it's a powerful partner in your quest for affiliate success. Whether you're building a dynamic affiliate network or monetizing your website, this plugin is your secret weapon to unlock limitless possibilities. Improve your affiliate marketing with Ultimate Affiliate Pro and experience a level of excellence that is truly unparalleled.
Experience affiliate marketing excellence with Ultimate Affiliate Pro, the pinnacle of WordPress affiliate plugins. Empowering your business or website with a complete suite of tools, this plugin delivers unmatched functionality for managing and optimizing your affiliate program.  Ultimate Affiliate Pro stands as a beacon of efficiency, simplifying complex tasks and providing extraordinary support to maximize your affiliate marketing success. Increase your online ventures with the industry's leading affiliate plugin and unlock the full potential of your WordPress website.
Why should you use Ultimate Affiliate Pro?
Choosing Ultimate Affiliate Pro is a strategic move for anyone serious about maximizing their affiliate marketing endeavors. It grants users to effortlessly manage and optimize their affiliate programs, boosting revenue and fostering lasting partnerships. The intuitive interface, coupled with dynamic marketing tools, ensures a smooth and efficient affiliate marketing experience. In essence, Ultimate Affiliate Pro is the key to elevating your online business, driving revenue, and achieving exceptional success in the world of affiliate marketing.
Key Features
Ultimate Affiliate Pro, the leading affiliate plugin for WordPress, boasts a robust set of features that empower users to optimize and maximize their affiliate marketing efforts. Key features include:
Real-Time Referral Tracking: Monitor affiliate activities and track referrals in real-time, providing instant insights into campaign performance.
Flexible Commission Structures: Customize commission rates based on a variety of factors, allowing for tailored compensation that aligns with business goals.
Seamless eCommerce Integration: Effortlessly integrate with popular eCommerce platforms, streamlining the affiliate marketing process for online businesses.
Dynamic Commission Tiers: Implement dynamic commission tiers to incentivize affiliates with increasing rewards as they achieve higher levels of performance.
Comprehensive Reporting and Analytics: Access detailed reports and analytics to gain valuable insights into affiliate performance, helping optimize marketing strategies.
User-Friendly Interface: Enjoy an intuitive and user-friendly interface that simplifies the setup, management, and monitoring of affiliate programs.
Marketing Tools and Resources: Provide affiliates with a suite of dynamic marketing tools and resources to enhance their promotional efforts and drive results.
Customizable Affiliate Dashboard: Offer affiliates a personalized dashboard where they can track their performance, view earnings, and access promotional materials.
Lifetime Referral Tracking: Ensure affiliates receive commissions for the entire lifetime of referred customers, maximizing long-term revenue potential.
Integration with WordPress and Popular Plugins: Seamlessly integrate with WordPress and other essential plugins, ensuring compatibility and enhancing overall website functionality.
Ultimate Affiliate Pro stands out as a comprehensive solution, combining these features to create a powerful affiliate marketing tool that caters to the diverse needs of businesses and individuals alike.
Stats
Downloads: 15,000+
Rating: 4.6/5
Best for: WordPress site owners with an extensive affiliate network
Price: starting at $69 LifeTime
Start Getting More Sales with
Ultimate Affiliate Pro

, the leading affiliate plugin for WordPress
Create and improve your WordPress affiliate programs with the all-in-one affiliate plugin for WordPress with tons of features available 
Seamless WooCommerce Integration
Are you looking for the perfect affiliate plugin for WordPress to build an online store? Ultimate Affiliate Pro is a fast, flexible that offers deep integration with WooCommerce, the best WordPress ecommerce plugin. With unique features and countless customizations you can build a store that matches your brand.
I've been using Ultimate Affiliate Pro for my WordPress website for quite some time now, and I must say, it's an exceptional affiliate program. The affiliate plugin for wordpress offers a wide range of features that make managing affiliates a breeze. The user-friendly interface allows me to easily set up and customize my WordPress affiliate program according to my needs.
Being a WordPress user with an affiliate program, I was in dire need of a plugin that could simplify the entire process. Ultimate Affiliate Pro turned out to be the perfect fit for my needs and a reliable affiliate plugin for wordpress. The user interface is so intuitive and user-friendly that I was able to set up my affiliate program effortlessly. The robust payout feature ensures that my affiliates are paid promptly and accurately.
One of the standout features of Ultimate Affiliate Pro is its robust MLM (Multi-Level Marketing) functionality. This allows me to create multi-level affiliate structures, encouraging my affiliates to recruit new members and earn commissions from their referrals. It has significantly helped me expand my affiliate network and boost my sales.