Running a successful WooCommerce store involves not only offering top-notch products but also implementing effective marketing strategies. One such strategy that can significantly boost your sales and brand exposure is affiliate marketing. Affiliate marketing allows you to leverage the power of partnerships, enabling others to promote your products in exchange for commissions. To set up a successful affiliate program for your WooCommerce store, you'll need the right affiliate plugin. In this comprehensive guide, we'll explore seven top WooCommerce affiliate plugins, helping you make an informed decision.
Table of Contents
1. Ultimate Affiliate Pro – The All-in-One Solution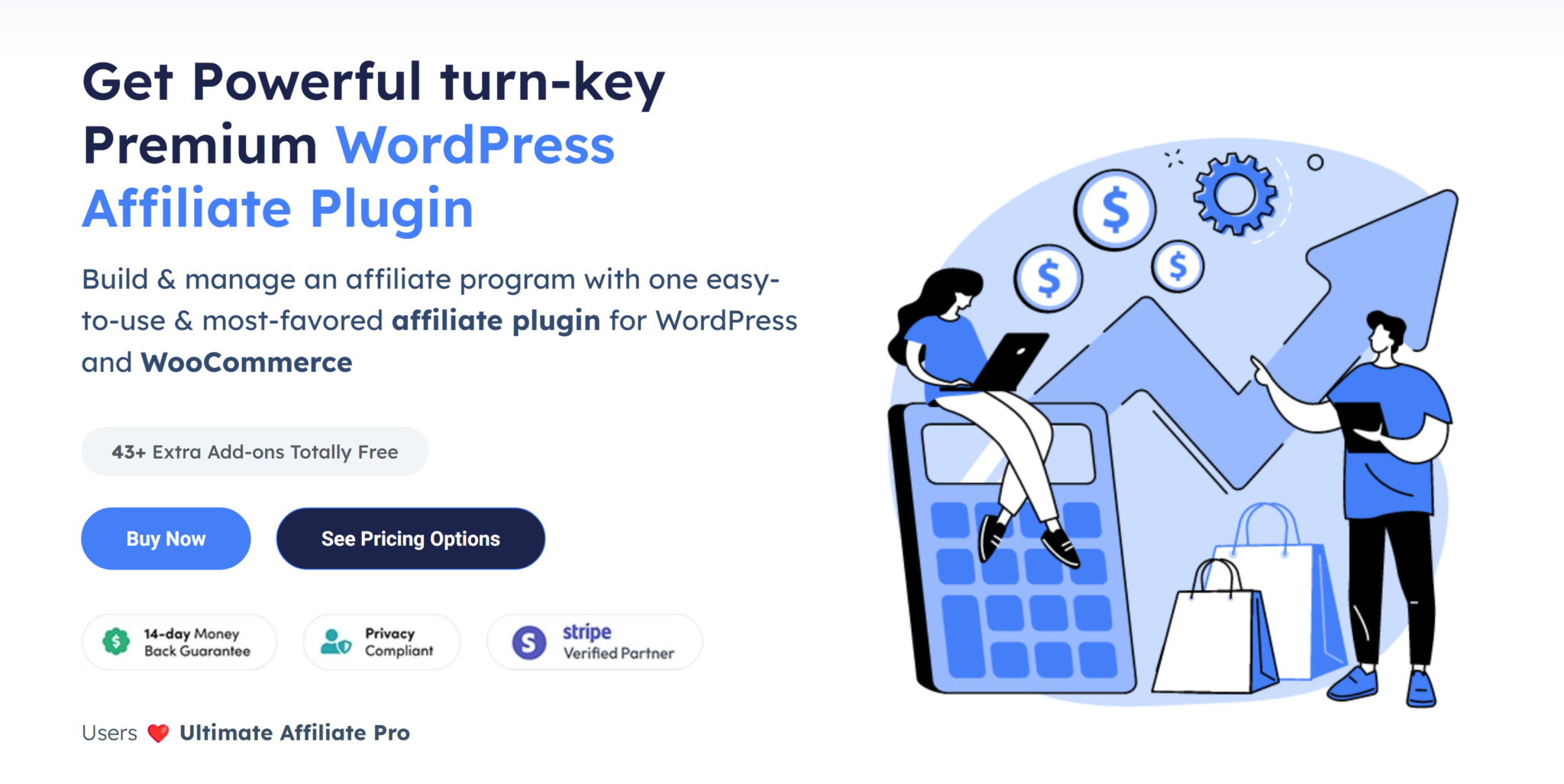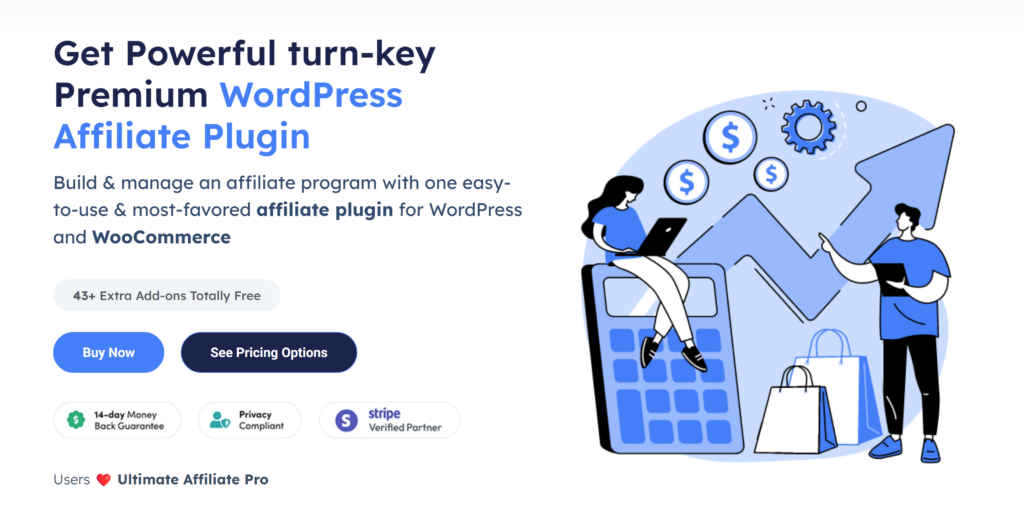 When it comes to affiliate marketing for WooCommerce, Ultimate Affiliate Pro is a powerful and versatile choice. It seamlessly integrates with your WooCommerce store, making it easy to create, manage, and optimize your affiliate program. With an intuitive dashboard for both store owners and affiliates, it's a user-friendly option.
Why Choose Ultimate Affiliate Pro?
Ultimate Affiliate Pro offers numerous features to maximize your affiliate program's potential. It supports unlimited affiliates, allowing you to scale your program as your business grows. You can set custom commission rates for different products or categories, including recurring commissions for subscription-based products. The plugin also provides detailed reports and analytics, helping you track your affiliate program's performance.
2. Affiliates Manager – A Simple Yet Effective Choice
Affiliates Manager is a straightforward WooCommerce affiliate plugin that focuses on core affiliate management features. It's a good option for those who prefer simplicity and don't require advanced functionality.
Key Features:
Affiliate registration and management.
Real-time reporting and tracking.
Integration with WooCommerce coupon codes.
Tiered commissions for affiliates.
3. Affiliates for WooCommerce – Part of a Bigger Picture


Affiliates for WooCommerce is an extension of the broader Affiliates plugin. It offers a range of features for tracking and managing affiliate referrals within your WooCommerce store.
Highlights:
Affiliate registration and tracking.
Commission management.
Integration with popular e-commerce platforms.
Extensive add-ons for added functionality.
4. YITH WooCommerce Affiliates – A User-Friendly Option

YITH WooCommerce Affiliates is a user-friendly plugin designed to help you create your affiliate program. It's suitable for those who want a straightforward solution without advanced features.
Notable Features:
Easy affiliate registration.
Commission management.
Integration with WordPress and WooCommerce.
User-friendly dashboard for affiliates.
5. ReferralCandy – A Unique Approach to Referral Marketing


ReferralCandy takes a different approach to affiliate marketing by focusing on customer referrals. While not a traditional affiliate plugin, it can be a valuable addition to your marketing strategy.
Key Offerings:
Customer referral rewards.
Integration with various e-commerce platforms.
Automated referral tracking.
User-friendly referral program setup.
6. Affiliates WooCommerce Light – A Basic Option

Affiliates WooCommerce Light offers basic affiliate management capabilities for WooCommerce. It's a suitable choice for small businesses or those looking for a simple solution.
Core Features:
Affiliate registration and tracking.
Commission management.
Integration with WooCommerce.
User-friendly interface.
7. Affiliates by itthinx – A Versatile Choice

Affiliates by itthinx is a versatile affiliate marketing solution that integrates with WooCommerce. While it offers affiliate tracking and commission management, it may require additional extensions for full WooCommerce integration.
Key Highlights:
Affiliate registration and tracking.
Commission management.
Integration with WooCommerce.
Support for additional add-ons.
Choosing the Right Plugin for Your WooCommerce Store
Selecting the right WooCommerce affiliate plugin depends on your specific needs and goals. Here are some factors to consider:
Simplicity vs. Complexity: Determine whether you prefer a simple, easy-to-use plugin or one with advanced features.
Scalability: Consider the potential growth of your affiliate program and whether the plugin supports unlimited affiliates.
Commission Flexibility: Evaluate the options for setting custom commission rates and whether the plugin supports recurring commissions.
Reporting and Analytics: Assess the availability of detailed reports and analytics to monitor your program's performance.
Integration: Check if the plugin integrates seamlessly with WooCommerce and any other essential plugins you use.
User Experience: Ensure that the plugin offers a user-friendly experience for both you and your affiliates.
Ultimately, the best WooCommerce affiliate plugin for your store will align with your unique requirements and business objectives. While all the plugins mentioned have their strengths, Ultimate Affiliate Pro stands out as a comprehensive solution that covers a wide range of affiliate marketing needs. Its feature-rich nature, scalability, and user-friendly interface make it an excellent choice for those serious about launching a successful affiliate program.
Conclusion
Affiliate marketing can be a game-changer for your WooCommerce store, driving more sales and increasing your brand's reach. Choosing the right affiliate plugin is crucial to the success of your program. Consider your specific needs, the size of your program, and the features that matter most to you. Whether you opt for the simplicity of Affiliates Manager, the versatility of Affiliates by itthinx, or the comprehensive features of Ultimate Affiliate Pro, you're on your way to maximizing your WooCommerce store's potential through affiliate marketing. Start your journey today!